On  #internationalwomensday, we thank our founders for their enduring legacy.

The College Woman's Club of Westfield was founded in 1917 by recent college graduates (pictured above), Mabel Sturgis (Wellesley '02) and Helen French Welch (Vassar '14),  with a mission to further higher education of women and serve the general interests of the community.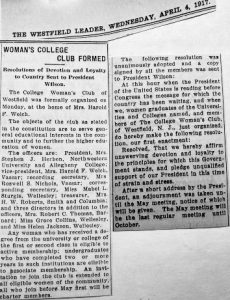 Founded on the eve of WWI and at the height of the Women's Suffrage movement,  the College Woman's Club has occupied a singular place in Westfield's intellectual, cultural, and civic life for more than a century. CWC was instrumental in forming the Westfield Adult School, WHS College Night, and the town's bicentennial celebration. CWC members were among the first female representatives on the Westfield Town Council and Board of Education, and currently serve on those and other civic boards.
The CWC's very first scholarship recipient, Helen G. Michaels graduated Syracuse University in 1925 with a degree in Library Science.  She went on to receive a  Masters from Rutgers University where there is a scholarship in her name.

The College Woman's Club welcomes Scholarship applicants.  Scholarship recipients are selected based on academic achievement, community service, and financial need.  The candidate must be graduating from high school at the end of this current academic year and plan to enroll in a four-year college program commencing the next academic year. Applicants must have maintained residency in Westfield for at least one year prior to applying. We encourage all young women to apply.  Applications are due on March 15.  The application can be found here: https://bit.ly/CWC21Application