Votes for Women!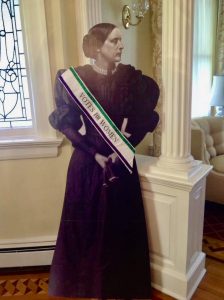 In celebration of the 100th anniversary of the 19th Amendment, the College Woman's Club of Westfield invites all area women and girls to get their picture taken with "Susan B. Anthony"!
Ms. Anthony will make a special appearance at the Westfield Historical Society's AppleFest this Saturday, October 17.
"It has become a moving tradition for women to place 'I Voted' stickers on the gravesites of the original suffragettes," said Anne Wargo, president of the College Woman's Club. "This is our way of paying homage locally to these founders of the women's rights movement." Women of voting age will also receive "I Voted" stickers to affix to Ms. Anthony in gratitude.
The event will be held on the lawn of Reeve History & Cultural Resource Center, 314 Mountain Avenue in Westfield. This is an outdoor-only event and social distancing rules will be in place, including masks and hand sanitizing at every station.
Reservations are required for this year's AppleFest. Two sessions will be observed: 12p-2p and 2p-4p. Please contact westfieldhistoricalsociety@gmail.com or call 908-654-1794.
AppleFest logo design: Danny Schwartz